Around the third plenary meeting – held in the historic city of Leuven Belgium on 15./16 May 2018 – the business development group revisited and refined the Carelink Value Proposition. It is the aim of the project team to deliver a low-cost, location and proximity monitoring system suitable for people with dementia. To successfully launch an innovative solution in the market is one of the major challenges of this research project. The leader of the business development team has therefore a six-step process to push the efforts and create the needed results.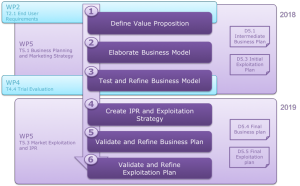 Prior to this meeting, we collected important input from the "requirements & design" team to answer to following questions:
Proven Demand: Description of the pain/problem we solve
Solution: Top 3-7 user requirements that solve the pain/problem (no nice-to-have requirements)
Assumptions: List of not yet validated requirements
Based on this input we prepared a drafted a value proposition to present at the beginning of the workshop. This first version of the Carelink value proposition was structured into three sections as follows:
Identify the customer(s)/payer(s) for our solution
Describe the value proposition in one sentence
Define how we will test the value proposition
During the workshop, we first discussed the requirements to get more clarity and focus on the solution. It was thus helpful to get an agreement on the top 3 requirements and to separate them from the additional ones. As a result of this part, we were able to define a MVP (Minimum Viable Product) based on 4 main features.
After defining our main customer, the hardest part was to define the value proposition in one sentence. Every group member had to present his/her version. After a long discussion we were able to agree on a common version:
Carelink is a smart, adaptive and low-cost solution for positively managing the wandering of people with dementia
The value of Carelink can thus be summarised as follows:
Carelink gives people with dementia the possibility to walk freely while reducing the stress on the caregivers – all based on a smart, low-cost device* and a caregiver app.